QSC RMX5050A 1100W RMX Series Power Amplifier
Special Price
$2,189.99
Regular Price
$2,540.99
The new flagship of the RMX line, the RMX 5050A provides extremely high power and represents tremendous value The RMX 5050A provides advanced thermal performance, delivering higher continuous power in 2-ohms stereo or 4-ohms bridged applications Dual mono, high current power supply for increased reliability and performance 3RU chassis only 16" deep
More Information

| | |
| --- | --- |
| MPN (manufacturer part number) | RMX5050A |
| UPC (Universal Product Code) | 00684284003935 |
| Condition | New |
| Specs | STEREO MODE, Both Channels Driven 8 ohms FTC 20 Hz - 20 kHz, 0.1% THD EIA 1 kHz, 0.1% THD 1050 W 1100 W 4 ohms FTC 20 Hz - 20 kHz, 0.1% THD EIA 1 kHz, 0.1% THD 1600 W 1800 W 2 ohms FTC 20 Hz-20 kHz 0.1% THD EIA 1 kHz 1% THD 2000 W 2500 W BRIDGE-MONO MODE 8 ohms FTC 20 Hz-20 kHz 0.1% THD EIA 1 kHz 0.1% THD 3200 W 3600 W 4 ohms EIA 1 kHz 1% THD 5000 W Distortion (SMPTE-IM) Less than 0.02% Distortion (Typical) 20 Hz - 20 kHz: 10 dB below rated power 1 kHz and below: full rated power Less than 0.02% Less than 0.02% Frequency Response 20 Hz - 20 kHz, 8 ohms, LF filter bypassed, +0/-1 dB 5 Hz - 50 kHz, 8 ohms, LF filter bypassed, +0/-3 dB Damping Factor Greater than 250 @ 8 ohm Noise (unweighted) 100 dB below rated output (20 Hz - 20 kHz, 8 ohm load) Input Sensitivity 1.42 Vrms for 1050 watts into 8 ohms Voltage Gain 64x (36 dB) for 8 ohm load Input Impedance 20k ohm balanced, 10k ohm unbalanced Controls Front: Controls Rear: AC power switch, Ch. 1 and Ch. 2 gain control 10-pole DIP switch featuring LF filter on/off, LF filter 30/50 Hz, Clip Limiter on/off controls for each channel and switches for selecting Stereo, Parallel, or Bridge mode. Push-button circuit breaker for each channel. Indicators Power-On: Green LED, Protect: Red LED Signal -30dB: Yellow LED, Clip: Red LED Connectors Input: Connectors Output: XLR female, TRS (1/4"), and barrier-strip screw terminals, each channel Binding posts and Speakon® outputs (Ch. 1 Speakon wired for biamp) Cooling Continuously variable-speed fan, rear-to-front air flow Amplifier Protection Short circuit, open circuit, thermal, ultrasonic, and RF protection. Stable into reactive or mismatched loads Load Protection On/off muting, DC fault output crowbar Power Requirements 100, 120 or 240 Volts AC (±10%) 50-60 Hz (factory configured) 120V models require 20 Amp service and are supplied with a NEMA 5-20 plug on the cordset. Dimensions 19" (48.3 cm) wide, 5.25" (13.3 cm) tall, 15.9" (40.39 cm) overall depth Weight 75 lbs (34.02 kg) net, 87 lbs (39.46 kg) shipping |
Frequently Bought Together
This Powerful Amplifier is a Big Performer and a Great Value!
You can count on the QSC RMX5050a when you need a reliable, tour-quality power amplifier. The sound is clear and powerful with flexible options to help you fine-tune your sound system. The RMX5050a lets you choose between 30Hz and 50Hz low-cut filters to optimize your sound, plus a defeatable clipping limiter to protect your speakers against signal spikes. And with both XLR and 1/4" balanced inputs, this power amp is ready to integrate into virtually any sound system. For awesome sound that you can count on for years, call Sweetwater for the QSC RMX5050a power amplifier.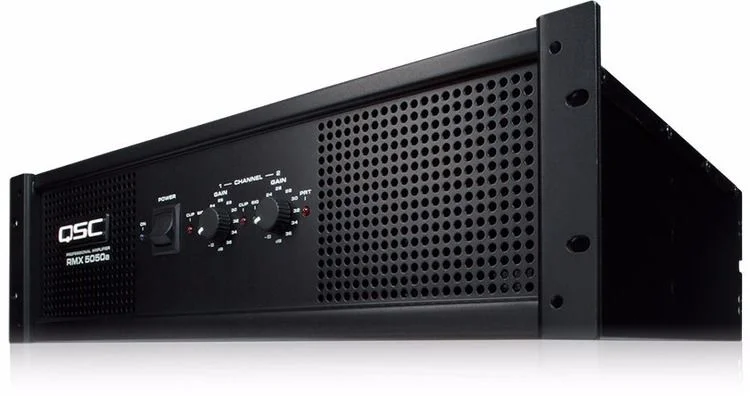 Compact chassis leaves more room in your rack
Rack space counts, especially when you're touring the country with tons of equipment. The QSC RMX5050a packs a ton of power into a chassis that's less than 16" deep, which gives you more room to make connections and manage your rack equipment.
Quality connections for reliable performance
The QSC RMX5050a power amplifier has both XLR and 1/4" balanced inputs, plus binding post and speakON outputs for maximum convenience. Whether you're playing at the local club or managing a large-scale stage production, it's easy to integrate the QSC RMX5050a into virtually any system that requires powerful, transparent audio performance.


Optimize your sound with a switchable low-cut filter
There's a low-cut filter on the QSC RMX5050a, to help protect your speakers and also help you maintain more headroom. Set it at 30Hz if you're using the RMX5050a to power a subwoofer, giving you powerful low-frequency response while filtering out sub-sonics that eat up your headroom. Set it to 50Hz if you're powering main speakers, giving you even more headroom for clear, dynamic, full-range sound while maintaining a powerful low-end presence.
QSC RMX5050a Power Amplifier Features:
Stereo or bridged-mono power amplifier
Compact chassis is less than 16" deep, leaving you more space in the back of your rack
Flexible I/O with XLR and 1/4" balanced inputs, plus binding posts and speakON outputs
Front-mounted gain controls give you fast, easy access to your signal levels
Switchable 30Hz/50Hz low-cut filter lets you fine-tune your system for maximum headroom
Signal and Clip LED indicators let you monitor performance at a glance
Independent DC and thermal overload protection on each channel automatically protects amplifier and speakers
Defeatable clipping limiter protects speakers against signal spikes
More Information

| | |
| --- | --- |
| MPN (manufacturer part number) | RMX5050A |
| UPC (Universal Product Code) | 00684284003935 |
| Condition | New |
| Specs | STEREO MODE, Both Channels Driven 8 ohms FTC 20 Hz - 20 kHz, 0.1% THD EIA 1 kHz, 0.1% THD 1050 W 1100 W 4 ohms FTC 20 Hz - 20 kHz, 0.1% THD EIA 1 kHz, 0.1% THD 1600 W 1800 W 2 ohms FTC 20 Hz-20 kHz 0.1% THD EIA 1 kHz 1% THD 2000 W 2500 W BRIDGE-MONO MODE 8 ohms FTC 20 Hz-20 kHz 0.1% THD EIA 1 kHz 0.1% THD 3200 W 3600 W 4 ohms EIA 1 kHz 1% THD 5000 W Distortion (SMPTE-IM) Less than 0.02% Distortion (Typical) 20 Hz - 20 kHz: 10 dB below rated power 1 kHz and below: full rated power Less than 0.02% Less than 0.02% Frequency Response 20 Hz - 20 kHz, 8 ohms, LF filter bypassed, +0/-1 dB 5 Hz - 50 kHz, 8 ohms, LF filter bypassed, +0/-3 dB Damping Factor Greater than 250 @ 8 ohm Noise (unweighted) 100 dB below rated output (20 Hz - 20 kHz, 8 ohm load) Input Sensitivity 1.42 Vrms for 1050 watts into 8 ohms Voltage Gain 64x (36 dB) for 8 ohm load Input Impedance 20k ohm balanced, 10k ohm unbalanced Controls Front: Controls Rear: AC power switch, Ch. 1 and Ch. 2 gain control 10-pole DIP switch featuring LF filter on/off, LF filter 30/50 Hz, Clip Limiter on/off controls for each channel and switches for selecting Stereo, Parallel, or Bridge mode. Push-button circuit breaker for each channel. Indicators Power-On: Green LED, Protect: Red LED Signal -30dB: Yellow LED, Clip: Red LED Connectors Input: Connectors Output: XLR female, TRS (1/4"), and barrier-strip screw terminals, each channel Binding posts and Speakon® outputs (Ch. 1 Speakon wired for biamp) Cooling Continuously variable-speed fan, rear-to-front air flow Amplifier Protection Short circuit, open circuit, thermal, ultrasonic, and RF protection. Stable into reactive or mismatched loads Load Protection On/off muting, DC fault output crowbar Power Requirements 100, 120 or 240 Volts AC (±10%) 50-60 Hz (factory configured) 120V models require 20 Amp service and are supplied with a NEMA 5-20 plug on the cordset. Dimensions 19" (48.3 cm) wide, 5.25" (13.3 cm) tall, 15.9" (40.39 cm) overall depth Weight 75 lbs (34.02 kg) net, 87 lbs (39.46 kg) shipping |